Ruin and Rising (The Grisha #3)
by Leigh Bardugo
Release Date: June 17, 2014
Goodreads | Amazon UK | Amazon | The Book Depository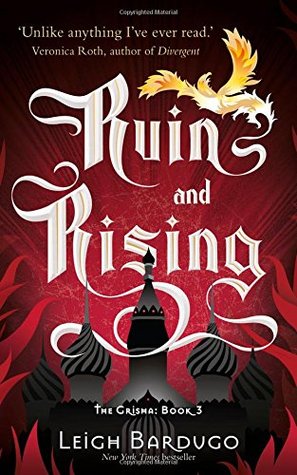 The capital has fallen.
The Darkling rules Ravka from his shadow throne.
Now the nation's fate rests with a broken Sun Summoner, a disgraced tracker, and the shattered remnants of a once-great magical army.
Deep in an ancient network of tunnels and caverns, a weakened Alina must submit to the dubious protection of the Apparat and the zealots who worship her as a Saint. Yet her plans lie elsewhere, with the hunt for the elusive firebird and the hope that an outlaw prince still survives.
Alina will have to forge new alliances and put aside old rivalries as she and Mal race to find the last of Morozova's amplifiers. But as she begins to unravel the Darkling's secrets, she reveals a past that will forever alter her understanding of the bond they share and the power she wields. The firebird is the one thing that stands between Ravka and destruction—and claiming it could cost Alina the very future she's fighting for.
A captivating and endlessly exhilarating story that knows no limits. Ruin and Rising is the breathtaking conclusion to the dark fantasy trilogy Shadow and Bone. This story has everything that you never imagined you would want and makes it even better than you could ever fathom. If you have not considered the books or haven't heard of them then I strongly recommend you do because they will fast become your favourite books.
Ruin and Rising offers a crescendo ending with the ultimate fight of light and dark. Alina is frail but she's so much stronger from when we first met her in Shadow and Bone. She will not stand in the shadows and she will fight no matter the cost! The Sun Summoner is here and she ain't backin' down. However, she must gather an army to fight the Darkling and everything he stands for. With Alina still recovering from the events in Siege and Storm, times could never be more tense. Her and a small group of those she can call her true friends, must seek shelter while doing everything they can to plot against the darkness that they will soon come to face.
"I will strip away all that you know, all that you love, until you have no shelter but mine."
Obviously the story could never be complete without the one and only, Mal. I swear to you that this boy made my heart ache like it never has before. He is loyal and brave and tentative and devoted and achingly beautiful inside and out. Throughout the book he fights his feelings because of the fear of not being good enough for her; not being able to offer her all that she deserves may it be land, or a throne, or much of anything else. He knows, and having this get away of his feelings will rip you to shreds, but make you love him more.
"You were meant for more than me, and I'll die fighting to give it to you. But please don't ask me to pretend it's easy."
The bombshells in Ruin and Rising. THE BOMBS HAVE BEEN DROPPED AND YOUR HEART WILL DROP AND ROLL ALL OVER THE PLACE. This book put me across the scale; I was happy, I was esctatic, I was sad, I was devastated, I was angry, I was saddened, I was annoyed, and about 17 million other emotions. Prepare yourself for a wild ride!
If I could erase the story from my mind and re-read the books to be surprised by each twist and each turn, I would. I would do it ten thousand times over because the story is just so rich and stunning in every possible way. I congratulate Leigh Bardugo for telling the story in her style because it's so unique and so mysterious all the way through and impossible not to love each element that brings everything together. I'm excited to see what she can bring out next because she's certainly set the bar high with her debut trilogy. YA fantasy fans go and buy these books as soon as you can.
Rating