Hey,
Welcome to my stop of The Girl Who Came Back to Life blog tour!
Stay tuned for an interview with the author, Craig Staufenberg, and an awesome giveaway that means you have a chance to get your hands on this intriguing book. Check out the cover and blurb below: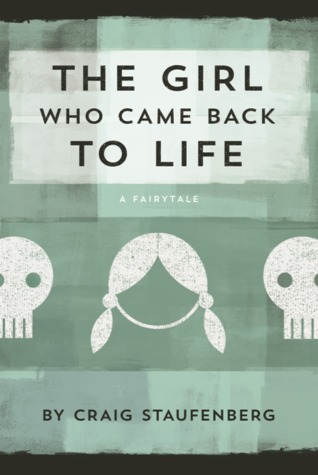 Release Date: April 16, 2014
When you die, your spirit wakes in the north, in the City of the Dead. There, you wander the cold until one of your living loved ones finds you, says "Goodbye," and Sends you to the next world.
After her parents die, 12-year-old Sophie refuses to release their spirits. Instead, she resolves to travel to the City of the Dead to bring her mother and father's spirits back home with her.
Taking the long pilgrimage north with her gruff & distant grandmother-by train, by foot, by boat; over ruined mountains and plains and oceans-Sophie struggles to return what death stole from her. Yet the journey offers her many hard, unexpected lessons-what to hold on to, when to let go, and who she must truly bring back to life.
-------------------------------------------
It sounds pretty dang cool, doesn't it?
Now, let's welcome Craig Staufenberg to the post!
How did you get the idea for The Girl Who Came Back to Life?
The idea kicked around in me for the better part of a decade. It began with a novella I wrote back in college, but I never felt the novella was quite the whole story. I felt like there was something larger in there. So every once in a while, over the years, I'd pick up the idea— dust it off, and play with it. See where it went.
After years of this I decided to just make the thing. Put it to bed. So I sat down and started writing, and the whole story came out in a week—and it wasn't exactly the story I imagined it was going to be. It took about a year after that to go through rounds of revising, beta reading, editing, and putting the actual book together.
But, to clarify, the book didn't come from an idea; it came from a feeling. A small distinction, but an important one.
What is the message of the book?
The book is about love and loss, and how we can live in a world that's filled with both.
Is there going to be a sequel or is this a standalone novel?
At the moment it's a standalone novel. The world is much bigger than the corner that Sophie inhabits, and it's even much bigger than the long path she travels to reach the North. And I have an idea or two I've been kicking around for another story that takes place within that world. But at the moment I have no concrete plans to make another.
What other projects are you working on?
I've been getting into script writing the last few months. Mostly TV pilot writing. It's been an exciting change of pace and format. I'm not opposed to writing more books, and I work all the time, but I can't say what the next book I release will be, or when it will come out.
Favourite YA book/series?
The His Dark Materials series. I haven't reread them for a few years, but I love those books. The scope Pullman works with—a massive, cosmic concern seen through the perspective of two kids just trying to get through it all—inspires me.
Sum up your book in 5 words.
Others have called it "beautiful."
--------------------------------
To find out more about the author you can visit him on his website, Twitter or Facebook.
There is also a giveaway open for either a print or ebook copy of The Girl Who Came Back to Life by Craig Staufenferg. If you live in the US or Canada then you are eligible for a print copy, however if you live internationally you will receive an ebook copy. To enter simply fill out the Rafflecopter below:
**Giveaway Closed**
Winners: Brandi D.
Thank you all for entering!
Good luck to you all,
Sam :)