The Heir (The Selection #4) by Kiera Cass
Release Date: May 5, 2015
Goodreads | Amazon UK | Amazon | The Book Depository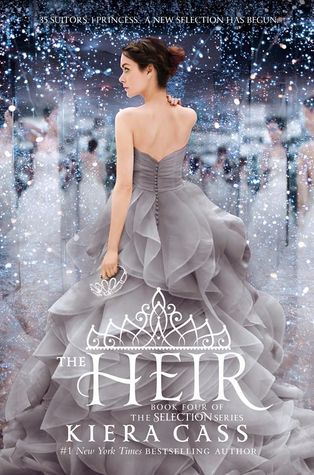 Princess Eadlyn has grown up hearing endless stories about how her mother and father met. Twenty years ago, America Singer entered the Selection and won the heart of Prince Maxon—and they lived happily ever after. Eadlyn has always found their fairy-tale story romantic, but she has no interest in trying to repeat it. If it were up to her, she'd put off marriage for as long as possible.
But a princess's life is never entirely her own, and Eadlyn can't escape her very own Selection—no matter how fervently she protests.
Eadlyn doesn't expect her story to end in romance. But as the competition begins, one entry may just capture Eadlyn's heart, showing her all the possibilities that lie in front of her . . . and proving that finding her own happily ever after isn't as impossible as she's always thought.
**Mild spoilers for the previous Selection books**
The Heir is the fourth installment in the Selection series that focuses on the next generation of royals, and more specifically Eadlyn, who must undergo the Selection to find a suitor. I was slightly surprised when I heard the series wouldn't simply end at the third book (The One) because I felt that everything had rounded off quite nicely with an ending that tied up all the storylines but also left you with a magical idea for the future. However, the author has managed to weave a storyline that works. It did feel slightly drawn out but as this is the first book I am willing to give it a chance.
What pushed me to carry on reading this series is the fact that I knew Maxon and America would obviously appear in the story and also play a large role in it. After all, the story is about their daughter. I also came round to the idea of their being another selection as I really did enjoy reading about the process in the first few books. If you're unsure of what the selection is, basically there are 35 people competing for the heart of the heir to the throne, and in this case it is Eadlyn.
To be completely honest with you all, I didn't like Eadlyn. I didn't like her at the beginning, I didn't like her in the middle and I didn't like her at the end. To be honest she came across as bratty and selfish. I couldn't really stand her at times. The main issue that she has with her life is that she doest want to be the next Queen. She didn't asked to be born with this responsibility on her shoulders. But come on girl you've got to get on with it and stop sulking. She also like to use her title when telling off others, "you can't speak to me that way I'm a royal." Not an exact quote but gives you an idea of what she's like.
What kept me reading on was the storyline. I wanted to get to know and meet the suitors! I wanted to see what they had to offer the princess and how charming they could be in her presence. However I really do hope the story picks up a bit more in the next few books and that our darling Eadlyn learns to grow up. I'm quite interested to see who she will end up with as she has so many options.
On a side note, no you do not have to read the previous books to read the Heir. It will definitely give you more insight into the characters and give a better feel for what the selection is like, but it is not compulsory.
Previous books reviews: The Selection (#1), The Elite (#2), The One (#3)
Rating