Since Forever Ago by Olivia Besse
Release Date: May 13, 2014
Goodreads | Amazon UK | Amazon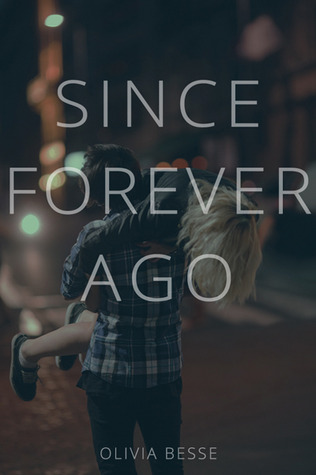 Fresh off the heels of a devastating breakup, Riley Benson is a mess. But with her ingenious plan to become a ball-busting heartbreaker herself, she's pretty sure she'll survive. After all, what better way is there to get revenge than to move on?
Riley's determined to become the perfect bachelorette—she's going to drink like a bro, belch like a beast and swear so much that she'll make even the most seasoned sailors blush. After all, those are the qualities that every guy's secretly looking for…. aren't they?
Max Fletcher is in love with the girl who gave him chicken pox and his first broken leg. When his best friend seems to finally be out of the picture, he can't help but want to keep Riley all to himself. And, after coaching her with the very best of the very worst love advice, it seems as if he might actually get what he's wanted after all those years. But just as the two come to the realization that they're actually kind of perfect for each other, along comes a secret that threatens to tear them apart.
Initially, all I heard about this book was that the main character was annoying and whiny and it wasn't worth the read. On the other hand, I have a slightly different view. As Riley gets over her cheating ex-boyfriend and fails to see that her best friend Max has loved her for years now, he pulls out all the stops to make sure that she would eventually notice and choose him. However what most readers found difficult was the fact that Riley does wallow in self-pity, has emotional break downs, and moans and whines that she will die alone as a crazy cat lady. Once you get past it being "annoying", it simply becomes endlessly hilarious.
Since Forever Ago is a contemporary novel that really made me giggle with its charismatic and comedic characters. I adored both Riley and Max. Max especially when he tries to give her "tips" on all the qualities that guys like to see in a girl on a first date. Sadly for Riley, guys do not particularly warm up to girls who turn up in sweats, have no matters, and like to boast about how many burritos they can eat in a short period of time.
Of course, Riley was not the most likable at times as her decisions were rash and she acts a bit like of teenager rather than someone in their early twenties, which I didn't mind too much because it just made the book even funnier. By the end I came to like her.
The plot involves Riley really figuring out her love life, what she wants, and what she deserves. Her boyfriend of six years cheated on her and she begins to see that Max could be more than a best friend. The story line is full to the brim with drama, heartache, and bursts of humor.
Since Forever Ago is a book that I would recommend to those with a slightly more opened mind and don't mind their main characters being whiny and rash. Other than that, there is plenty more to appreciate, like the humor and moments of cute romance that melted my heart. For me this is a solid three as it is definitely marmite.
Rating
A review copy was provided by the author