Hello!
I am so excited to inform you that the hit YA mystery series Night School by C.J Daugherty has hit Youtube as a web series! Are you hearing this?! A web series! And it has hit the web live on Friday 12th December on CJ Daugherty's Youtube channel. If you have never heard of this series before then I would definitely recommend that you check it out. You can also stay tuned for a giveaway later on in the post as well as an exclusive interview with the one and only C.J Daugherty!
Release Date: January 1, 2012
Allie Sheridan's world is falling apart. Her brother's run away from home. Her parents ignore her. And she's just been arrested.
Again.
This time her parents have had enough. They cut her off from her friends and send her away to boarding school, far from her London friends.
But at Cimmeria Academy, Allie is soon caught up in the strange activities of a secret group of elite students.
When she's attacked late one night the incident sets off a chain of increasingly violent events. As the school begins to seem like a very dangerous place, she finds out that nothing at Cimmeria is what it seems to be.
And that she is not who she thought she was.
----------------------------
The web series will be following the first book for now, but who knows what could become of the next four books in the series (one is yet to be released yet).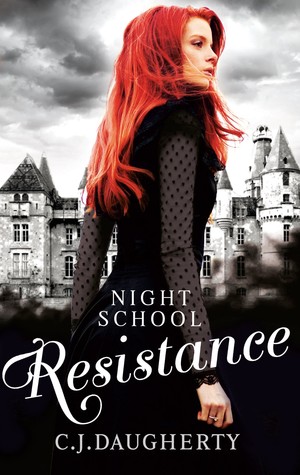 Now let's welcome C.J Daugherty to the post!
- What or who inspired you to write the Night School series?
I was working in Whitehall at the time, for the government. And I knew I wanted to write a political thriller. But I wasn't sure where to start. Then one day I saw a picture in the paper. It was a group of young men in tuxedos and had been taken in the 1980s, and the caption said 'The Bullingdon Club: A secret society at Oxford University'. A teenaged David Cameron was in the photo and Boris Johnson. Until then, I hadn't really thought about secret societies, and I was never much of a conspiracy theorist. But once I started looking into the Bullingdon Club, and found out how many CEOs, politicians, media executives and judges were in it when they were teenagers.... Well. Let's just say Night School was born.
- Which character can you relate to most from the book?
I completely relate to Allie. Her anger is my anger. Her rebellion is my rebellion. Someone asked me recently why I write about angry young people from difficult families and I said, 'Because I don't know any other kind.' I don't write about happy young people from unbroken homes because I don't know what that's like.
- Would you like to get involved acting in the Night School web series? Make a small appearance?
No! I'm not an actor. I want to be behind the camera, standing by the director, holding a cup of coffee and typing the scripts!
- Are you working on any other projects at the moment? What can we expect from you in the future?
Night School 5 comes out in June! It's the last book in the series -- I can't believe it's nearly over!
Then in October, I'm launching a new 2-part YA series, The Secret Fire. It's a paranormal thriller that takes place in Paris and Britain – I'm co-writing it with the AMAZING French author, Carina Rozenfeld. And I can't wait for everyone to read it!
- If you could sum up Night School in 10 words, what would you say?
Beautiful people hide ugly secrets. Truth is worth fighting for.
Here is the trailer for the magnificent Night School Web series just in case you have yet to see it:
CJ Daugherty is the bestselling author of the Night School books, which are the first in the UK to be made into a web series.
Night School the Web Series runs on the You Tube Channel Night School Book, every Friday.
Check out the first episode here:
https://www.youtube.com/user/nightschoolbook
Thanks to the publisher, I also have a set of the four books released in the Night School series to giveaway! This giveaway is open to those who live in the UK. To enter simply fill out the Rafflecopter below:
Have a good week,
Sam :)