Getting By (A Knight's Tale #1) by Claudia Y. Burgoa
Release Date: February 18, 2014
Goodreads | Amazon UK | Amazon | The Book Depository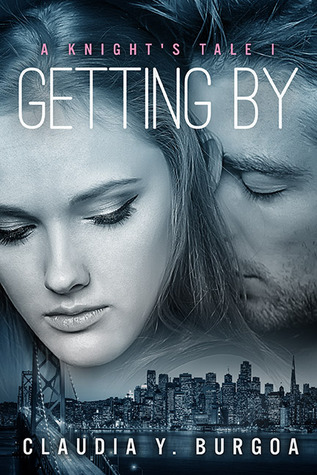 When Emma Anderson arrived at San Francisco International Airport, she regretted accepting the distinction of being the maid of honor to Gaby's—her childhood friend—wedding. It had been years since the last time she set foot in Menlo Park, where her parents had been killed. The rug where she had been shoving her feelings since that day looked bumpier than a camel's hump. Who could blame her; if she hadn't been selfish they'd still be around. Ever since that fateful day, Emma has been perfecting the knack of Getting By.
Cade's wedding in Menlo Park—a city close to San Francisco—might be the perfect place for Jake Knight to shake the memories of his ex, Emma Anderson for good. Single, available women galore for an entire week was the perfect medication, one he intended to take three times a day for an entire week to return to his player days. It was a plan the former spy thought flawless until he came face to face with the maid of honor. Jake's perfect retreat turns into a flight, fight or hide week of celebrations.
Getting By is a new adult romance that follows two characters with complicated lives as they count on fate each time to bring them together. It offers them both a "no strings attached" relationship, but after two years of this they are both in too deep and they realise that they do care about each other. When the two find themselves together at a mutual wedding, both have to figure what they want.
I liked the idea for the book. Leaving one's encounters with another up to chance and fate. The main characters in this book, Emma and Jake, have both dealt with extreme situations in their lives and the details of their lives are given in little chunks throughout the book which kept me reading until the end. What I also liked was the fact that it didn't feel like a typical, generic new adult romance where one of the characters is emotionally damaged and falls for someone who can fix them. Well, I've encountered many of these types of books and Getting By felt refreshing.
The book is told from both Emma and Jake's POVs and therefore you get a good whole image of what they are each thinking.Emma is quite a closed person and finds it difficult to discuss matters involving herself and her past. And then there's Jake, who was in the army and is all you could ever want in a gentleman. The two coming together made the story effortlessly funny and romantic.
I felt that the book moved at a slow pace, and this is fine, but I would have liked something to speed it up at times in order to make it a bit more captivating. Other than that, I have no complaints and I really enjoyed the characters and writing style! This is the first of a series and I'm very intrigued to find out what more there is to offer.
Rating
A review copy was provided