Divine Vices (Divine Vices #1) by Melissa Parkin
Release Date: November 1, 2013
Goodreads | Amazon UK | Amazon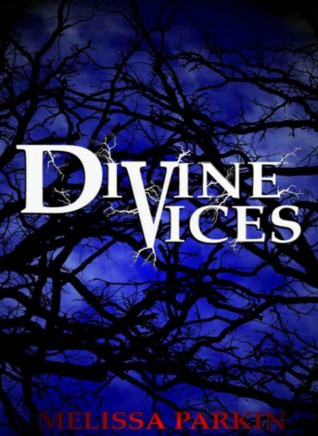 Danger seldom leaves its victims unscathed in the ways of seduction, and this lesson is one that sixteen-year-old Cassie Foster now knows all too well.
Nine months following the traumatic accident that claimed the life of her mother and sister, this high school junior has at last found a fresh start in the quiet town of New Haven, Maine. In the company of her best friends, Ian and Gwen, she's bracing the usual turmoil of adolescence and taking all in stride… until the new transfer student, Jackson Matthews, comes walking into her life. He's arrogant, sarcastic, roguish, devastatingly sexy, and the very last thing Cassie wants to entertain. But when circumstances drive these two together, she finds herself a bit too close for comfort as their bond intensifies. Plagued by unexplainable events, a sudden string of disappearances, and even a cult-related murder, Cassie begins to fear for her life. Is it all just a coincidence that these happenings began when this Casanova strolled into town, or has she in fact fallen for a real lady-killer, or worse?
What begins as a seemingly normal contemporary slowly progresses into a murder mystery before revealing all in a paranormal explosion. I had no idea what to expect around every corner of Divine Vices and I was kept interested all along the way by what it had to offer.
It's set in a high school and told from the POV of Cassie, a girl in her junior year. She has two best friends Ian and Gwen, and she's still trying to get back into the routine without her mother or sister who died several months earlier. Then there's Jack, a new student, and he's hot as hell with a charm to draw in every girl and Cassie is one of them. But Gwen is convinced that he has something to do with the girls in a local town who have been murdered; and it seems like Cassie is next.
Don't be put off if you find that when you start reading there are no paranormal aspects because - believe me - they will come around when you least expect them to! Divine Vices is a book that you can put down and know that there is so many things to look forward to. The characters were really fun to read about. Cassie was quite boring in my opinion, but looking past that we have Ian and Gwen who just can't stop the banter. Ian is a lovely, lovely guy and honestly... I want him. He's a great friend to Cassie throughout through thick and thin; he was there. While Gwen is just wild and free and doesn't care what anyone thinks of her.
My only observation is that all the main characters spoke like adults in terms of the words they used. I found this difficult to believe at times that the characters were all meant to be typical seventeen year olds.
However, that did not affect the creepy factor of the storyline. As there is also a murder-mystery plot, Parkins does a brilliant job at making the scenes chill you to the bone and want to find out more. I also feel like the blend of murder-mystery, romance, paranormal, and contemporary were an absolutely exquisite combination! There's so much that is going on and will appeal to a lot of different audiences.
I'm very much looking forward to the sequel as the cliffhanger at the end of this book is just torture and I'm sure that the plot line to follow in the next installment will be just as or even better than this book. I would definitely recommend this book to those who enjoyed Sweet Evil, Slide, or anyone who likes a good and solid paranormal romance or murder mystery.
Rating
A review copy was provided by the author