Take Me On (Pushing the Limits #4) by Katie McGarry
Release Date: June 6, 2014
Goodreads | Amazon UK | Amazon | The Book Depository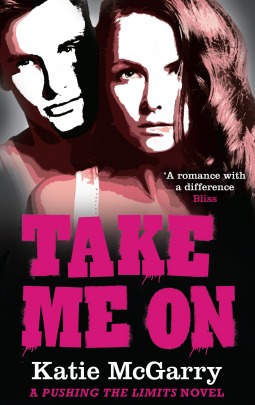 Champion kickboxer Haley swore she'd never set foot in the ring again after one tragic night. But then the guy she can't stop thinking about accepts a mixed martial arts fight in her honor. Suddenly, Haley has to train West Young. All attitude, West is everything Haley promised herself she'd stay away from. Yet he won't last five seconds in the ring without her help.
West is keeping a big secret from Haley. About who he really is. But helping him fighting for her is a shot at redemption. Especially since it' s his fault her family is falling apart. He can't change the past, but maybe he can change Haley's future.
Hayley and West have agreed to keep their relationship strictly in the ring. But as an unexpected bond forms between them and attraction mocks their best intentions, they'll face their darkest fears and discover love is worth fighting for.
Take Me On is the fourth book in the Pushing the Limits collection. Obviously, I absolutely adored it. Katie McGarry is one of my favourite authors for contemporary because she simply does them so flawlessly. The plot, the characters, the climax, THE ROMANCE, THE EVERYTHING!
HALEY AND WEST. Oh lawrd. They were so freakin' exquisite together... MY HEART COULDN'T TAKE THE ROMANCE. McGarry will take you on a wild roller coaster full of emotions and feels, and by the end you will be left feeling like you've just had the best time. I also loved the fact that the unique factor of this book was the martial arts and kickboxing. In Crash Into You, I found out plenty about cars, and in Dare You To it was writing. And having the heroine teach the "strong" male love interest how to fight was absolutely brilliant! Haley is strong and she can look after herself and I admired her strength and courage all the way through the book.
A lot of the book is West dealing with his families and coming to know that Haley is going through the same thing. Despite their very different backgrounds, they manage to come together and make something beautiful. And as West young is related to our last protagonist from Crash Into You, we get a visit from those characters which was absolutely brilliant as we can all relate in not wanting to let out much-loved characters go. However, West and Haley have stolen their own place in my heart and I couldn't have adored the two more.
Overall, all I can say is: if you don't start reading this series this summer then you should really go get some help because you're crazy. There is never a dull moment and I couldn't recommend this series enough to all of you YA fans.
Rating
A review copy was provided by the publisher