Lola and the Boy Next Door (Anna and the French Kiss #2) by Stephanie Perkins
Release Date: July 9, 2014 (UK) | September 1, 2011 (US)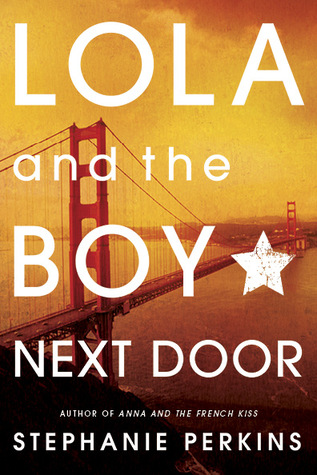 Lola Nolan is a budding costume designer, and for her, the more outrageous, sparkly, and fun the outfit, the better. And everything is pretty perfect in her life (right down to her hot rocker boyfriend) until the Bell twins, Calliope and Cricket, return to the neighborhood. When Cricket, a gifted inventor, steps out from his twin sister's shadow and back into Lola's life, she must finally reconcile a lifetime of feelings for the boy next door.
Oh my… Oh, how you made my heart ache and spasm so much I could hardly breathe at times. Lola and the Boy Next Door is so heart-breakingly perfect that I never wanted it to end. I was so sure that this book could not steal the place in my heart that Anna and the French Kiss took claim to a few years ago, but it has. It knocked that book out of place by not only showing the characters from Anna's story, but by also offering me a gorgeously hot geek, who is as sweet as pie and loving with no limits, as the male interest. Yes, Cricket, you are just perfect.

I can't be the only one who wishes that they had a great neighbour that they could fall in love with, right? Lola is extremely lucky in my mind to have someone like Cricket that close! At first, Lola is dating Max, a complete bad boy who her two fathers definitely do NOT approve of. I didn't like him either and also felt that Lola was 100% too whiny. Thank heavens Cricket awkwardly walks back into her life to save the day. However, it's not all that easy with Cricket's twin on the scene who most definitely is not Lola's #1 fan.
I may have not liked Lola at the beginning, but I was certainly intrigued with her intricate fashion sense and her completely quirky and unique EVERYTHING. This girl goes all out no matter what she's wearing and I really liked the idea of her using the clothes as a mask to who she really is. Okay, yes I actually adored Lola by the end. I'm so disappointed that I never read this book sooner because I can't stop re-reading it! It's captured my heart for sure.
Stephanie Perkins' contemporary books are absolutely perfect if you are craving some addictive storylines and gorgeous romance. I wish that this book didn't have to end, but thankfully the characters are said to be making an appearance in the next book Isla and the Happily Ever After, as well as the characters from Anna and the French Kiss. GUESS WHO'S ALL UP IN THAT IDEA?
I would with all my heart recommend this book to you as it made my heart ache so much in the best possible way. The characters are all brilliant including Lola's gay parents who are fiercely protective in a hilarious way. Definitely don't miss this gorgeous read because it will fast become one of your favourite contemporaries.
Rating
A review copy was provided by the publisher