Stone Cold Touch (The Dark Elements #2) by Jennifer L. Armentrout
Release Date: October 21, 2014
Goodreads | Amazon UK | Amazon | The Book Depository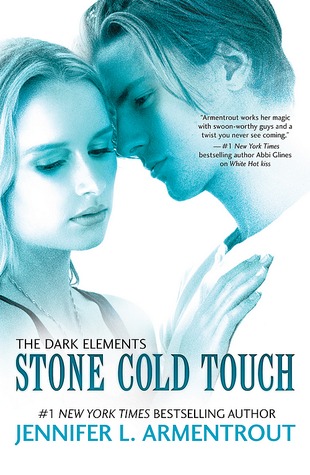 Every touch has its price
Layla Shaw is trying to pick up the pieces of her shattered life—no easy task for a seventeen-year-old who's pretty sure things can't get worse. Her impossibly gorgeous best friend, Zayne, is forever off-limits thanks to the mysterious powers of her soul-stealing kiss. The Warden clan that has always protected her is suddenly keeping dangerous secrets. And she can barely think about Roth, the wickedly hot demon prince who understood her in ways no one else could.
But sometimes rock bottom is only the beginning. Because suddenly Layla's powers begin to evolve, and she's offered a tantalizing taste of what has always been forbidden. Then, when she least expects it, Roth returns, bringing news that could change her world forever. She's finally getting what she always wanted, but with hell literally breaking loose and the body count adding up, the price may be higher than Layla is willing to pay…
The Dark Elements trilogy has been one of my favourite stories from Jennifer L. Armentrout so far. I love the humor that comes with her writing style, her characters, the way she throws curve balls, and the irresistible way she writes romance. How could I not rush to buy this book after having the immense pleasure of reading White Hot Kiss?
The story is about gargoyles who are called Wardens and protect humans from evil demons. However, Layla is half demon and half Warden being brought up by a group of Wardens teaching her to hate her demon side, but there is Zayne, the son of the head of this Warden clan, and Layla's had a crush on him ever since she can remember. But after meeting Roth, a dark sexy demon, she realises that she can never be with Zayne. Until she can. Stone Cold Touch focuses more on Zayne and Layla's relationship and they're relationship will literally tear your heart in two because picking between Zayne and Roth is like picking between you want ice cream or cake. They're two great things, but you'd just prefer it if they were together. Yeah... I want Roth and Zayne.
Aside from the romance, this book is filled with danger and countless numbers of dead bodies! Be prepared for a wild ride as we see more of Layla's powers manifest and change as she learns more about evil beings running free on earth who is a big potential danger to all humans and Wardens alike. There is no moment that you can stop and take a breath because there is so much packed in. You will not regret picking this book up, I assure you.
If you enjoy a quality paranormal romance I would definitely recommend that you look into the Dark Elements trilogy because there is a good balance between the romance and the action and mystery. Plus, Jennifer L. Armentrout is a brilliant writer and I can safely say that I've enjoyed every single one of her books that I've had the pleasure to read so far.
Rating