Hey,
Summer is over (almost) but I still thought about showcasing a contemporary romance book that stole my heart earlier in the summer. This book is A Midsummer's Nightmare by Kody Keplinger and it is filled with humor and romance and so much more. I'm talking about a quiet summer setting, making new friends, crushing on the hot step brother. I loved it all.
There's just a time when you need something that will lift your mood and take your mind off... life. This book was it! I've read Shut Out by Kody Keplinger but it was no match for A Midsummer's Nightmare, I assure you all so definitely give this book a chance if you have indeed read Shut Out and rated it a "marmite" book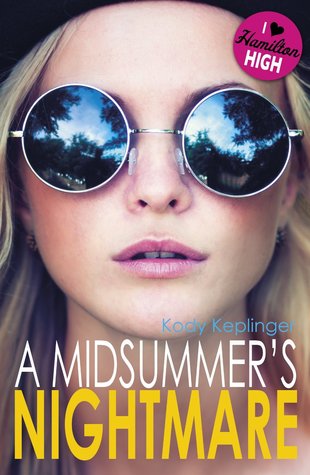 Release Date: February 6, 2014
Whitley Johnson's dream summer of shopping, partying and tanning on the beach has just turned into a nightmare. Because Dad didn't tell her he doesn't live by the beach anymore, or that he's no longer a bachelor. He's picked up and moved to a tiny, lame town called Hamilton and gotten himself a fiance. A fiance whose son just happens to be what's-his-name from last week's drunken graduation party one night stand. Just freakin' great.
As if the summer couldn't get worse, Dad seems to forget Whitley's even there. She doesn't fit in with his perfect new country club family, and Whitley does what any kid lucky enough to go all summer unsupervised does: she parties. Hard.
So hard that she doesn't even notice the good things right under her nose: a younger future step-sister who is just about the only person she's ever liked, a best friend (even though Whitley swears she doesn't 'do friends') and a smoking hot, sweet guy who isn't her step brother (yet) and who actually seems to care for her. It will take all three of them to convince her that they're not phoneys, and to get Whitley to get through her anger and begin to put the pieces of her family together.
---------------------------------
I very much enjoyed this book and felt it really brightened up my day with its brilliant characters! You can check out my full review
here!
If you're interested in purchasing the book then I've included some links below to help you out:
This giveaway is open to those who live in the UK and my international followers! If you live in the UK you'll get my spare copy (in new condition) and if you are out of the UK I'll send the book to you via The Book Depository.
To enter simply fill in the Rafflecopter below:
**Giveaway Closed**
Winner: Maria
Thank you to everyone who entered!
Thanks for entering and good luck!