The Queen of Zombie Hearts (White Rabbit Chronicles #3)
by Gena Showalter
Release Date: September 30, 2014
Goodreads | Amazon UK | Amazon | The Book Depository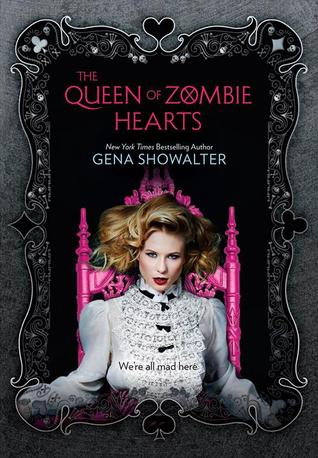 I have a plan.
We'll either destroy them for good, or they'll destroy us.
Either way, only one of us is walking away.
In the stunning conclusion to the wildly popular White Rabbit Chronicles, Alice "Ali" Bell thinks the worst is behind her. She's ready to take the next step with boyfriend Cole Holland, the leader of the zombie slayers…until Anima Industries, the agency controlling the zombies, launches a sneak attack, killing four of her friends. It's then she realizes that humans can be more dangerous than monsters…and the worst has only begun.
As the surviving slayers prepare for war, Ali discovers she, too, can control the zombies…and she isn't the girl she thought she was. She's connected to the woman responsible for killing—and turning—Cole's mother. How can their relationship endure? As secrets come to light, and more slayers are taken or killed, Ali will fight harder than ever to bring down Anima—even sacrificing her own life for those she loves.
How much do I love zombies? Well, not very much, but I certainly love this story about them. I don't know how I could possibly sum up how much I've enjoyed this trilogy with all its characters and quirks. I've met a crazy-ass chick who can see zombies, and was once so scared of them, to her being able to kick-butt with no hesitation at all. Our main character Ali has fallen in love with a fellow zombie slayer Cole, who has also been all round perfect and lovely to read about. And I've fallen for every single one of the side characters, loving their unique personalities and contribution to the story. I will miss this trilogy very much indeed.
"Roses are red, violets are blue, I have five fingers, the middle one is for you."
Now Ali has found new powers to beat the zombies, but so many things are going wrong. And Anima, the company behind all the zombie attacks, are planning something bigger than any of them could imagine and it may mean that some characters will need to sacrifice themselves for the cause. This whole book is packed with romance, and action, ultimate betrayal after betrayal, and bomb-shell after bomb-shell. There was not one moment in the book you can pause for a breather because danger is always far behind. I loved the tension within the book and felt that it really added to the crescendo for the finale.
The Queen of Zombie Hearts is impossibly sassy. Each of the characters have their own attitude and, to be completely honest, it is hilarious and I couldn't get enough of each and every one of them. I can't think of anything that I didn't enjoy about this book. Have I mentioned how hot the romance is? The book was on fire in my hands whenever Cole and Ali had a scene together. I adored their heated romance in the midst of a zombie apocalypse. And the ending wasn't exactly what I was expecting.... Not anything like I was expecting, but I did love it. It was bittersweet and completely heart wrenching, so brace yourselves for a bang!
I would highly recommend this trilogy to any of those who want a kick-butt storyline with so many twists and turns that you will never be expecting. And, of course, if you love a good zombie story, which I don't think there are many of in the young adult genre that I can remember off the top of my head, so you better get your hands on this story so you don't miss out on a top-notch adventure!
Rating
A review copy was provided by the publisher