The Duff by Kody Keplinger
Release Date: February 25, 2015 (UK Movie Tie-In Version)
Goodreads | Amazon UK | Amazon | The Book Depository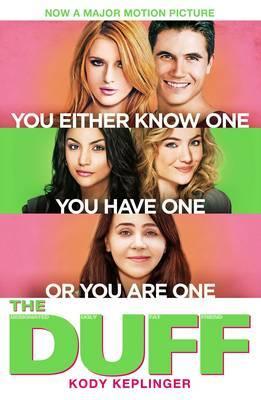 Seventeen-year-old Bianca Piper is cynical and loyal, and she doesn't think she's the prettiest of her friends by a long shot. She's also way too smart to fall for the charms of man-slut and slimy school hottie Wesley Rush. In fact, Bianca hates him. And when he nicknames her "Duffy," she throws her Coke in his face.
But things aren't so great at home right now. Desperate for a distraction, Bianca ends up kissing Wesley. And likes it. Eager for escape, she throws herself into a closeted enemies-with-benefits relationship with Wesley.
Until it all goes horribly awry. It turns out that Wesley isn't such a bad listener, and his life is pretty screwed up, too. Suddenly Bianca realizes with absolute horror that she's falling for the guy she thought she hated more than anyone.
I've had the previous pleasure of reading Keplinger's other two novels Shut Out and A Midsummer's Nightmare, and I found that I really enjoyed her characters and the effortless humor expressed through them. The Duff was no exception! I was quick to get into the story and finished the book in one sitting.
Bianca has a distinctive voice in this novel and despite the fact that I did like her feisty nature and good humor, there were times when I didn't understand her decisions or actions. She is quick to form some sort of "enemies with benefits" relationship with Wesley and even though she has convinced herself that anything between them will never happen and she wouldn't want them to, she still isn't truthful with her best friends about anything. And when I say they are her best friends, I really do mean the type of friends who will look out for her no matter what, and this is obvious through how much effort they put into the friendship, but for most of the book Bianca doesn't even take much notice. However, I did really like her as the protagonist! Yes, I did moan for quite a bit but there's just something so lovable about her.
The plot for the story definitely kept me hooked and a book hasn't done that to me in a long while. I feel like I've read so much heavy sci-fi and fantasy books that it was good just to sit, relax and dip my toes in some good ole' contemporary! I am definitely looking forward to seeing the movie even though they did a lot of changing to the plot but that's understandable because, hey, it happens. I'm expecting to fall for Wesley in the movie just the same as I fell for him in the book! He's a great guy under all the douchebaggery at the beginning.
Overall I think The Duff was a good read that really taught be a lot about how people may look at me and how I look at others. If you like good humor in your contemporary then I'll point you straight to Kody Keplinger. Definitely give her books a go because you might just become a fan.
Rating
A review copy was provided by the publisher