The Winner's Crime by (The Winner's Trilogy #2)
by Marie Rutkoski
Release Date: March 12, 2015
Goodreads | Amazon UK | Amazon | The Book Depository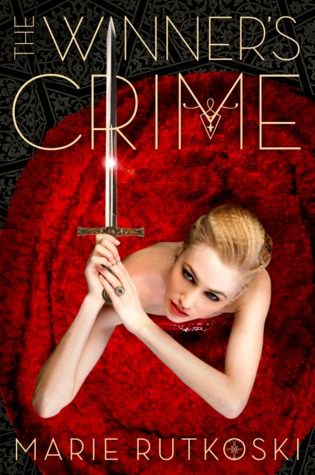 Lady Kestrel's engagement to Valoria's crown prince calls for great celebration: balls and performances, fireworks and revelry. But to Kestrel it means a cage of her own making. Embedded in the imperial court as a spy, she lives and breathes deceit and cannot confide in the one person she really longs to trust ...
While Arin fights to keep his country's freedom from the hands of his enemy, he suspects that Kestrel knows more than she shows. As Kestrel comes closer to uncovering a shocking secret, it might not be a dagger in the dark that cuts him open, but the truth.
After being introduced to the world and characters of The Winner's Curse I knew that I would not be able to do anything except love and go crazy over getting my hands on the sequel. The Winner's Crime does not disappoint with its story riddled with tension and mystery. No where is safe, and no one can be trusted, not even those you hold dear. I loved every moment of this book and anyone who enjoys fantasy should definitely be picking this trilogy up soon.
Closely following the events of The Winner's Crime, Kestrel is due to be married to someone she does not even know to protect Arin. Arin is struggling to aid his own people and is falling into deep depression not knowing what has happened to Kestrel or who she has become. The two can only have but stolen moments together because the king has spies everywhere and those who defy his authority will always pay the price.
I am in love with the setting of this story. I am in love with the characters and every twist and turn in the direction of their journeys. Kestrel is daring and brave and loyal beyond words. She knows what has to be done and she will do it, especially if it is to keep someone safe. I wish she and Arin could have one long sit down and talk about their feelings, but their relationship does not quite work that way. I do love the two and my soared every scene they were together in. Their relationship is endlessly complicated but this makes it more interesting to read about and enjoy. I'm so excited to read about what happens in the next book.
The Winner's Crime feels like such a unique story despite the idea of the evil dictator who obsesses over our main protagonist, her actions, and who she is in general. There is action and there is a mystery with all the spying work going on throughout the story, I couldn't put it down for a moment.
If you love fantasy, this is a must.
Rating
A review copy was provided by the publisher