Isla and the Happily Ever After (Anna and the French Kiss #3)
by Stephanie Perkins
Release Date: August 14, 2014
Goodreads | Amazon UK | Amazon | The Book Depository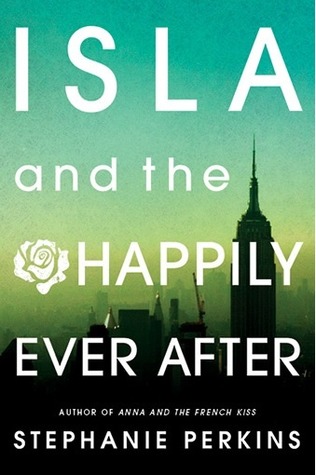 Love ignites in the City That Never Sleeps, but can it last?
Hopeless romantic Isla has had a crush on introspective cartoonist Josh since their first year at the School of America in Paris. And after a chance encounter in Manhattan over the summer, romance might be closer than Isla imagined. But as they begin their senior year back in France, Isla and Josh are forced to confront the challenges every young couple must face, including family drama, uncertainty about their college futures, and the very real possibility of being apart.
Isla and the Happily Ever After is the final book in the Anna and the French Kiss line of stories. We have met all the characters and watched each couple fall in love in their own heart-warming way. I'm happy with how the story has ended and can't wait to revisit the characters in the future.
This story follows Isla who, on her holiday back home from the School of America in Paris, meets and finally talks Josh, the artist in her class who she's been interested in ever since her early years at the school. However, life and love are never simple and the two face obstacles that they never thought they'd have to face to be together. And obviously in this story we have the appearance of the characters from the previous stories: Anna and Etienne (Anna and the French Kiss) and Lola and Cricket (Lola and the Boy Next Door) so the story is twice as amazing.
I think my favourite story out of three would probably be Anna and Etienne's in

Anna and the French Kiss

, followed by

Lola and the Boy Next Door

. I felt this installment didn't have that charm to tip it over the edge and win the place as my favourite. The romance isn't gradual. Josh and Isla do jump into things quite quickly and this plays a big part in the messages of the story and the dilemmas, etc. but I simply didn't feel like I was crazy in love with what was going on. I did like it and felt that the story ended brilliantly in a way that I was satisfied and fulfilled but yes, it couldn't beat the previous books.
Overall, this is the perfect set of books to read if you want a triple punch from an entertaining YA contemporary writer. They will not disappoint you with their epic romance stories that will sweep you off your feet.
Rating