A Little Something Different

by Sandy Hall
Release Date:
August 26, 2014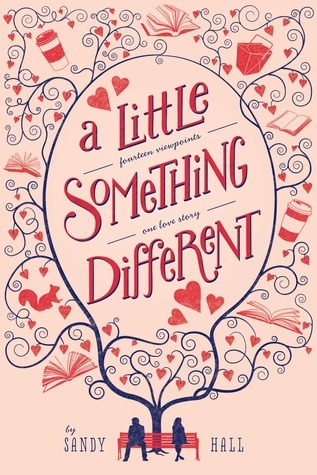 The creative writing teacher, the delivery guy, the local Starbucks baristas, his best friend, her roommate, and the squirrel in the park all have one thing in common—they believe that Gabe and Lea should get together. Lea and Gabe are in the same creative writing class. They get the same pop culture references, order the same Chinese food, and hang out in the same places. Unfortunately, Lea is reserved, Gabe has issues, and despite their initial mutual crush, it looks like they are never going to work things out. But somehow even when nothing is going on, something is happening between them, and everyone can see it. Their creative writing teacher pushes them together. The baristas at Starbucks watch their relationship like a TV show. Their bus driver tells his wife about them. The waitress at the diner automatically seats them together. Even the squirrel who lives on the college green believes in their relationship.
Surely Gabe and Lea will figure out that they are meant to be together....
When I was reading the blurb for this book all I could think was: doesn't this sound so weirdly amazing? I loved the idea of reading a love story that wasn't told from the actual people falling in love's point of view. I ended up reading this in one sitting on the plane from Spain to the UK and I can tell you now that I've never enjoyed a plane journey more!
So the book is told from 14 points of view ranging from a class mate to a certain moany bench that made me laugh all the way through! It was really interesting to see the signs of people falling for each other from an outsider's perspective. A Little Something Different will make you laugh, smile, and root for two people to get together like you never have done before! This love story of Lea and Gabe was absolutely torturous because you can see their chemistry (the Starbucks' baristas can feel it from all the way across the room) and yet they tiptoe around each other so cautiously. This book will definitely inspire you to embrace your chances at love!
A Little Something Different is short, sweet and the perfect book for you to dip your toes into this summer if you want a contemporary novel that will endlessly make you smile. Yes, I did get frustrated with the main characters because they are both super shy, which didn't really make their romance advance at a very fast pace, but it all adds to the story's charm I guess. I would definitely recommend to try out this book if you want to try a love story with "something different" because I've never read anything like it!
Rating