Altered (Altered #1) by Jennifer Rush
Release Date: January 1, 2013
Goodreads | Amazon UK | Amazon | The Book Depository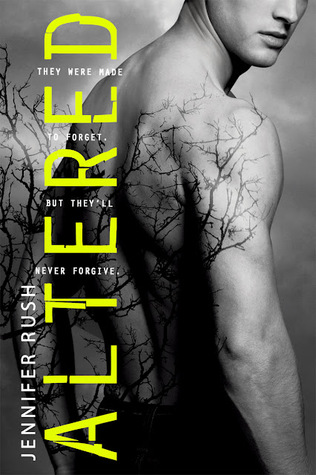 Everything about Anna's life is a secret. Her father works for the Branch at the helm of its latest project: monitoring and administering treatments to the four genetically altered boys in the lab below their farmhouse. There's Nick, Cas, Trev . . . and Sam, who's stolen Anna's heart. When the Branch decides it's time to take the boys, Sam stages an escape, killing the agents sent to retrieve them.
Anna is torn between following Sam or staying behind in the safety of her everyday life. But her father pushes her to flee, making Sam promise to keep her away from the Branch, at all costs. There's just one problem. Sam and the boys don't remember anything before living in the lab—not even their true identities.
Now on the run, Anna soon discovers that she and Sam are connected in more ways than either of them expected. And if they're both going to survive, they must piece together the clues of their past before the Branch catches up to them and steals it all away.
Altered is a compelling and action packed science fiction novel that incorporates themes such as genetic modification, mystery, and romance all in one delicious read. The story is told from the point of view of Anna, obviously a completely normal girl, I mean, what's unusual about having four boys living in your basement, right?
Sam, Cas, Trev, and Nick are the four boys living in her basement and have done so for years now. They're part of her father's job that she has limited knowledge about. But no matter how much she tries to refrain from interacting with them... she can't. And when there's an opportunity for them to escape, they take it. And so does Anna's father who urges her to go with them. They must follow the clues left behind in order to find out what the project that the boys are a part of is all about. And why the people chasing them down need them so badly.
Talking specifically about our lovely boys of four. There's Cas: a humorous and childish boy who loves to make Anna laugh and smile. He was definitely one of my favourite characters while reading the book. Then there's Trev, who can think up a famous quote for any situation and remains one of the only boys that Anna feels that she can talk to about anything. Now, Nick. He's fired up like a firecracker ready to explode. He's not the easiest to get along with, but Anna still tries all of the same.
Who could forget about Sam? Sam is really the main guy. He plays Anna's love interest and the one who Anna would lay her life down for. They share a special kind of relationship which grows and blossoms over the course of the book as they share pieces of themselves they could never do before. I adored him and his rare smiles and protective nature. The swoon worthy moments were just... perfect. I like how they start small and get bigger and better!
The plot drew me in hard and fast. From page one you are kept guessing and questioning what's happening and why it's all happening. "Why the hell are there four good looking boys in her basement?" and "Could I have a Sam in my basement, please?" But not only the mystery elements of the book, there is also plenty of action scenes to change up the pace of the book and wow! Rush knows to handle a brilliant kick-butt scene.
Overall, I feel that Altered is a fantastic book that definitely needs to be given a chance by all as it offers a fulfilling and thrilling reading experience. I'm more than ready to pick up the sequel Erase to continue with this epic journey and to find out MORE ANSWER! And have more Sam time.
Rating