Before You (Before & After #1) by Amber Hart
Release Date: July 29, 2014
Goodreads | Amazon UK | Amazon | The Book Depository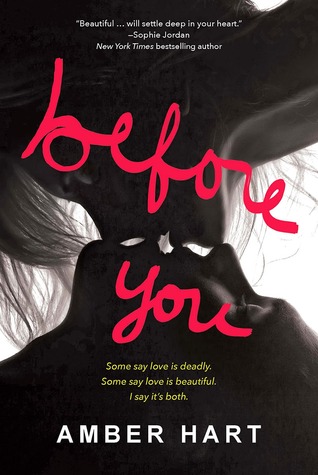 Some say love is deadly. Some say love is beautiful. I say it is both.
Faith Watters spent her junior year traveling the world, studying in exquisite places, before returning to Oviedo High School. From the outside her life is picture-perfect. Captain of the dance team. Popular. Happy. Too bad it's all a lie.
It will haunt me. It will claim me. It will shatter me. And I don't care.
Eighteen-year-old Diego Alvarez hates his new life in the States, but staying in Cuba is not an option. Covered in tattoos and scars, Diego doesn't stand a chance of fitting in. Nor does he want to. His only concern is staying hidden from his past—a past, which if it were to surface, would cost him everything. Including his life.
At Oviedo High School, it seems that Faith Watters and Diego Alvarez do not belong together. But fate is as tricky as it is lovely. Freedom with no restraint is what they long for. What they get is something different entirely.
Love—it will ruin you and save you, both.
Reading Before You was like reading Simone Elkeles' Perfect Chemistry. They follow a similar story line of an exotic Spanish-speaking dude who moves to the high school after being in a dangerous gang. At the beginning our heroine can't stand him, but then she realises that she can't resist him and their racy romance just gets going from there.
Before You was not a bad read, I actually really enjoyed it, and I hate to say that it's not as good as Perfect Chemistry as I felt that it had a lot more to offer than just the similar plot. For instance, Faith's best friend Melissa who was just completely hilarious and could not have been a better portrayal of a best friend. I admired her confident attitude and how she would always stand with Faith no matter what, but also Faith's father who plays a big part in her character development through out the novel. He is a pastor which means that she is expected by the community to be a certain way and she's really just wanting to make father happy while also longing to end the fake image that she has to up hold.
Faith and Diego's relationship is bittersweet and the author takes you on a crazy roller coaster as there are some extreme appearances from dangerous gangs who just mess everything up. It's a shaky start between the two, but obviously they begin to fall for each other. Their relationship is enjoyable and I loved watching them fall for each other in the time in which they were given.
I some how felt that the story was a bit predictable and didn't hold that extra spark that Perfect Chemistry had. Nevertheless, I felt that Before You was an engaging read that would definitely be perfect for the summer or for any contemporary fans out there looking for another book like Perfect Chemistry.
Rating
A review copy was provided by the publisher