A Court of Thorns and Roses (A Court of Thorns and Roses #1)
by Sarah J. Maas
Release Date: May 5, 2015
Goodreads | Amazon UK | Amazon | The Book Depository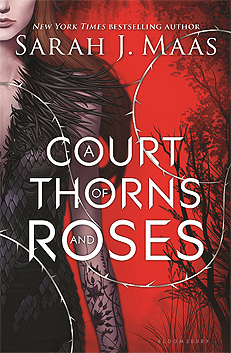 Feyre's survival rests upon her ability to hunt and kill – the forest where she lives is a cold, bleak place in the long winter months. So when she spots a deer in the forest being pursued by a wolf, she cannot resist fighting it for the flesh. But to do so, she must kill the predator and killing something so precious comes at a price ...
Dragged to a magical kingdom for the murder of a faerie, Feyre discovers that her captor, his face obscured by a jewelled mask, is hiding far more than his piercing green eyes would suggest. Feyre's presence at the court is closely guarded, and as she begins to learn why, her feelings for him turn from hostility to passion and the faerie lands become an even more dangerous place. Feyre must fight to break an ancient curse, or she will lose him forever.
A rich fantasy world that swept me off my feet and into the High Lord Tamlin's arms. Maas has succeeded once again at delivering readers a team of badass characters and a delicious plot line to go with them. This story follows Feyre as she introduces us to a harsh and cold world where faeries and mortals are separated by a wall. She hunts tirelessly in the forest to provide for her father and two sisters, who are unwilling to help her no matter how small the task. When she kills a faerie disguised as a wolf by accident, she is thrust into the faerie world as punishment to live with her captor. I make this sound bad, but it really isn't that bad. In the house of her captor, Tamlin, Feyre's hate and fear of faeries begins to fade and she begins to feel things she never thought would of been possible for her to feel towards such beings. And this is how our romance plot unfolds. Feyre begins to fall for Tamlin and the soft nature within him, and the harder she falls for his charm so do we.
I haven't read a Sarah J. Maas book for a while now and I completely forgot how easy is it to fall in love with her storytelling. Every character she introduces and every scene she describes feels so rich that it feels like they're practically falling out from the pages and unravelling in real life. You will want to explore all of what the faerie realm has to offer including all of the seven courts: Spring, Summer, A
utumn, Winter, Dawn, Day, and Night. In this instalment, we see a lot more of the Spring court, but I'm sure as the series goes on new courts will be introduced to readers and more exploring can take place.
I've finished this book feeling like I've fallen in love with so many charming guys. Especially, Tamlin. Oh, no one will understand the depth of how much you could possibly adore him until you read this book. He stole my heart only a few chapters into the book and I can't wait for you to fall in love with him too. He is introduced to us firstly as a beast who ransacks Feyre's house in search for the one responsible for killing one of his men, but as the story progresses secrets are revealed and so is the gentle and kind person beneath that frightening exterior. Maas has used inspiration from the tale of Beauty and the Beast perfectly to create a world and story which feels dangerous yet so irresistible.
A strong start to what I can already feel will be an action-packed and thrilling series.
Recommended if you also loved: The Winner's Curse by Marie Rutkoski,
Rating