Because You'll Never Meet Me
by Leah Thomas
Release Date: July 2, 2015
Goodreads | Amazon UK | Amazon | The Book Depository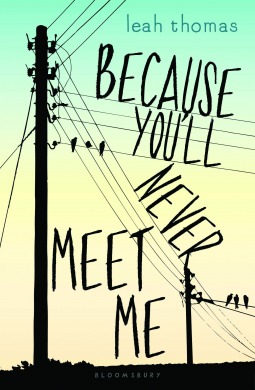 Ollie and Moritz are best friends, but they can never meet. Ollie is allergic to electricity. Contact with it causes debilitating seizures. Moritz's weak heart is kept pumping by an electronic pacemaker. If they ever did meet, Ollie would seize. But Moritz would die without his pacemaker. Both hermits from society, the boys develop a fierce bond through letters that become a lifeline during dark times—as Ollie loses his only friend, Liz, to the normalcy of high school and Moritz deals with a bully set on destroying him.
Because You'll Never Meet Me is a touching story of two boys who bond over their exceptional conditions that mean they are unable to fit into society. The book is told from two points of view: Ollie and Moritz. Ollie lives deep in the woods, isolated from the modern world of technology because he is allergic to electricity. He can't live a normal life but he tries his best to remain upbeat and optimistic. I really enjoyed his voice in the story because despite having such a sad and life altering condition, he is able to see the bright side in any situation. As for Moritz, he is a little bit older than Ollie and lives in Germany. He was born without eyes and depends on his incredible sense of hearing to get by his daily life. Moritz is quite proper and refuses to try and confront his fears. Both of the boys learn to confide in each other and what it really means to have a friend.
I was really touched by the letters sent between the boys all through out the book. Aside from the two telling each other their stories and day-to-day lives, we are also presented with the mystery of how on earth Ollie and Moritz ended up with their conditions. I felt that this spurred on the plot and added a interesting twist on the boys' relationship.
You'll no doubt want to make it to the very end of the novel in one sitting to see how both Ollie and Mortiz turn out because throughout the book you are really left wondering what can be done to help these two poor souls?
Overall, I would definitely recommend this novel if you're looking for a contemporary that is a bit different and has unique characters that you will get to know better through the form of letters. Some people may not find the characters that gripping or exciting to start off with and occasionally their personal stories may not seem that captivating, but you the two boys really grow on you and before you know it, you're in love with both of them.
Rating
A review copy was provided by the publisher